More than half of Edinburgh's workforce degree-educated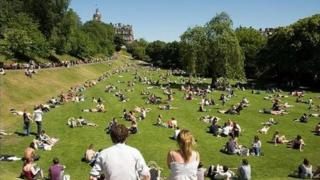 More than half the workforce in Edinburgh is now educated to degree level, according to a new survey.
There is now 54% of workers in the capital with a degree compared with 46% in 2013.
These statistics plus others about population and investment have been produced by the city council to promote the capital.
It also claims winter rainfall in Edinburgh is almost half that of the UK average.
Key facts
Frank Ross, Edinburgh city council's convener of the economy committee, said: "The facts in the latest edition of Edinburgh by Numbers speak for themselves and show the city has much to celebrate this year.
"The document is an essential resource for anyone looking to invest in the city or simply looking for key facts and figures about the capital"
He said the data was "extremely encouraging".
"It also further strengthens our reputation as a knowledge-based economy, enhancing the attractiveness of Edinburgh for employers to locate or expand their business," Mr Ross added.
Figures also showed foreign direct investments created 1,860 jobs in the city in 2014 and the largest 70 local charities recorded £28.9m in donations in 2014.
Mr Ross said: "On a lighter note, those planning to visit Edinburgh in the winter will be pleased to know that our average rainfall from November to February is almost half that of the UK average."