Royal Scots Veterans call for more organ donors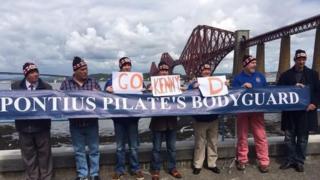 Royal Scots veterans have called for more organ donors, at a rally to support a comrade who has recently had a double lung transplant.
The men gathered in the shadow of the Forth Bridge to wish former Royal Scot major Kenny Douglas well after surgery in Toronto.
A campaign backing "Kenny D" has swept across the world.
First minister Nicola Sturgeon, film star Ewan McGregor and the All Blacks are among those offering support.
Speaking from Canada, Mr Douglas said: "Receiving new lungs has saved my life.
"Thanks to my donor I now look forward to playing sports with my sons, dancing with my wife and a long-awaited return to running.
"My donor has given me the greatest of gifts - the gift of life.
"To see members of the Royal Scots Regimental family coming together to support me means the world to me and is a huge motivator as I work toward recover over the coming months."
Plans to introduce a "soft opt-out" system for organ donation in Scotland were published earlier this year at Holyrood by Labour MSP Anne McTaggart.
At the moment in Scotland there is an "opt-in" system of organ donation requiring a proactive choice by an individual to express a wish to become a donor on their death.
This new legislation would mean people would have to opt out or their name would be added to the NHS Organ Donation Register.
The Scottish government said it would examine the bill to see if a convincing case can be made for a move to an opt-out system.