Ex-teacher to go on trial over sex remarks at Castlebrae High School in Edinburgh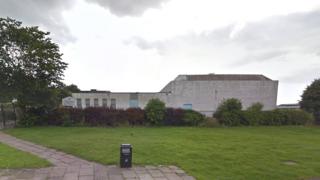 A former Edinburgh teacher is to go on trial on charges of making sex remarks to a 13-year old girl, a 13-year old boy and to a female trainee teacher.
Gavin Atkinson, 58, has denied four offences alleged to have been committed at Castlebrae High School between 1 August and 24 December 2013.
It is alleged Mr Atkinson asked the girl to perform a lap dance and made comments of a sexual nature.
The trial is due to start next week at Edinburgh Sheriff Court.
Mr Atkinson, from Crocketford, near Dumfries, is also said to have asked the boy to imagine he had seen a girl dressed only in her underwear and made a sexual reference to him.
He is also alleged to have assaulted the boy by pushing him on the body and using his knee to press the boy against a wall to his injury.
The allegation concerning the learner teacher refers to a conversation of a sexual nature, reference to underwear and to sending her emails of a sexual nature.
The trial is expected to last two days.