Man arrested after attack outside Whistlebinkies in Edinburgh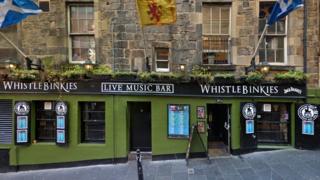 A 36-year-old man has been arrested after a nightclub-goer suffered a serious assault in Edinburgh.
The male victim, who is in his 30s, had just left Whistlebinkies on South Bridge at about 03:00 on Friday 8 April when he was hit over the head by an attacker.
He was taken to Edinburgh Royal Infirmary where he was treated for serious injuries.
The man who has been arrested is due to appear in court on Wednesday.