Woman, 85, dies after being struck by bin lorry in Edinburgh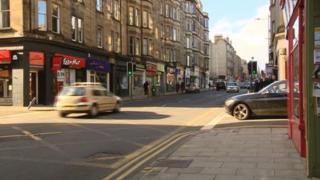 An 85-year-old woman has died after being struck by a bin lorry in Edinburgh.
The incident happened on Morningside Road, near to Jordan Lane, at about 11:45 on Sunday.
A local diversion was put in place at Comiston Road and Churchill Place, following the incident.
Police Scotland have appealed to anyone who may have seen the elderly woman, or the bin lorry, before the incident occurred.
Sgt Andrew Miller, of the road policing unit, said: "The woman was walking with a wheeled walking aid, similar to a zimmer frame, and we're hopeful anyone who might have seen her will come forward with relevant information."