Boy 'beaten unconscious' by Liam Fee murder accused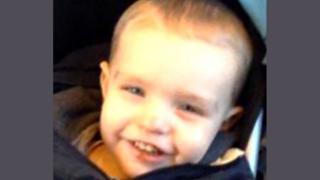 A child in the Liam Fee murder trial has told of falling unconscious after being beaten by one of the accused.
Two-year-old Liam was found dead at a house near Glenrothes in March 2014.
Rachel and Nyomi Fee deny murdering him and blaming his death on another child, and mistreating two other children.
In interviews played to the jury at the High Court in Livingston, the young boy said Nyomi Fee put her foot on his neck after making him lie on the floor. He said he fell unconscious.
When he woke up, Nyomi Fee was punching him in the back.
The child said on another occasion Nyomi Fee made Rachel Fee join in and it was "extra sore".
The boy also said he tried to escape three times. He said he was tied up in a cot in a room with rats and snakes.
He described one occasion where he managed to untie himself and climb out of the cot.
The boy said he planned to put a rope made of bandages out of the window and climb out of the house, but he was caught by Nyomi Fee.
Rachel Fee, 31, and Nyomi Fee, 28, who are originally from Ryton, Tyne and Wear, deny a series of mistreatment and neglect charges against two other children, as well as the murder charge.
The trial continues.