Simon Johnston faces jail over Kirkcaldy pensioner attack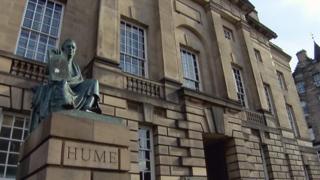 A man is facing a jail term after he forced his way into a pensioner's home with the intention of raping her.
Simon Johnston, 39, subjected the 71-year-old woman to violent ordeal at the property in Kirkcaldy in June 2015.
A jury at the High Court in Edinburgh heard that the assault, which lasted several hours, left his victim petrified.
They found him guilty of assault with intent to rape. Judge Lady Stacey adjourned sentencing until May.
The court was told that Johnston grabbed his victim by her hair and forced her from her kitchen to a bedroom.
He ignored her pleas for him to stop and threatened to kill her before restricting her breathing by placing a pillow over her mouth.
Previous conviction
Then he took a knife from the woman's kitchen, held it to her and told her that he wanted sex.
The court was told that the pensioner suffered 28 injuries - and medical experts concluded that the nature of the injuries suggested she had been assaulted.
Johnston was arrested when he contacted the police after reading a story about the attack on the BBC Scotland news website.
The description of a man police were seeking in connection with the attack matched Johnston.
He got in touch with police and claimed the woman was lying.
Giving evidence, he said: "I was disgusted at what I read. The description matched me with regards to everything - right to the jeans I was wearing and I was upset because it wasn't true."
Johnston, a prisoner at HMP Perth, has previously served a six year sentence for assault, after being convicted at the Crown Court in Stoke on Trent in 2000.