Serial killer William Burke's skeleton goes on display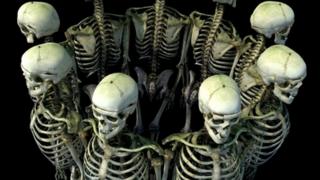 The skeleton of murderer William Burke is to go on show online for the first time.
Burke, along with his accomplice William Hare, killed 16 people in 19th Century Edinburgh and sold their bodies for medical research.
His remains will be included in a virtual tour developed by the Anatomical Museum at Edinburgh University.
The tour can be accessed through a new interactive application.
Other highlights of the tour include 1,500 human skulls and the death masks of famous figures such as Oliver Cromwell, Sir Walter Scott and Napoleon Bonaparte.
Until 2012, only medical students and staff were allowed access to the museum.
In recent years, the public have been allowed to visit on one day each month.
The new virtual tour extends this public access, offering 360-degree views with the ability to zoom in and view objects of interest in detail.
Prof Gordon Findlater of the University of Edinburgh said: "It seemed to me to be a great shame to have such a wonderful collection of anatomical and other artefacts locked away from public viewing.
"We started opening the museum to the public so that people in and around Edinburgh would have the opportunity to view the exhibits.
"Now, with this app, anyone with an interest in our collection can access it from anywhere in the world and see it just as those visiting on an open day sees it."