Protest in Pathhead over Rosslyn rapist rumours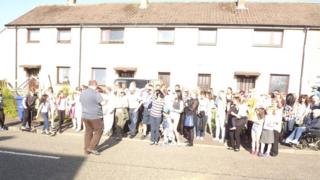 Rumours that a notorious rapist could be housed in a Midlothian village have sparked a protest.
Scores of people took to the streets of Pathhead on Wednesday amid concerns that a local council house was being prepared for Robert Greens.
He was jailed in 2006 for the rape of a 19-year-old Dutch student near the Rosslyn chapel.
A group which monitors sex offenders in the community said there was no plan to place anyone in the home in question.
And a local MSP said he had been reassured that Greens "won't be housed in Pathhead".
Rumours of Greens' move to the village emerged as a house in Preston Place was refurbished and appeared to be fitted with mirrored windows.
Midlothian Council and Police Scotland referred queries to the Scottish Prison Service (SPS), who refused to comment on individual prisoners.
However a spokesman for MAPPA - a multi-agency partnership which monitors sex offenders in the community - issued a statement on Thursday which appeared to quash the rumours.
He said: "There is no person on home leave within accommodation at Preston Place, Pathhead and there is no intention at this time to place such a person at this location."
Earlier local resident Nicola told the Kaye Adams Programme on BBC Radio Scotland, local people had legitimate concerns.
"The house which we believe was meant for him is in a terrace with neighbours joined either side," she said.
"The school could probably be seen from the top windows - it's less than a minute away from the house. And the park can definitely be seen - the children's park - can definitely be seen from his top windows.
"We wouldn't even know he was looking because he can see us but we can't see him.
"I do understand people need to go somewhere, people need to be rehabilitated, but why right in the middle of a small village?"
On the same programme, local councillor Lisa Beattie, who met residents at the protest, said a lack of official information was feeding rumours.
"I think a lot of the fear that was being expressed was actually about lack of knowledge and it was a rumour factory," she said.
"They had no information directly from anyone but they had seen a house be unusually equipped and repairs and alterations being done in a way that is unusual... this was an unusual occurrence which caused some consternation and certainly some questions initially."
SNP MSP Colin Beattie said he had raised the matter urgently with Midlothian Council and been assured that a local family would be moved into the property.
He said: "The rumour mill had clearly got out of hand but we can be reassured now that wherever Greens is re-housed, it won't be in Pathhead."
Greens was initially released from prison in 2012 on strict conditions but he was sent back to jail the following year after breaching a Sexual Offences Prevention Order.
'Unescorted leave'
The SPS refused to comment on individual prisoners but insisted that a "rigorous risk assessment" was undertaken before any prisoner was granted unescorted leave.
A spokeswoman added: "The majority of these take place without incident and the numbers of absconds are at historic low levels. Those on home leave are released on license conditions.
"Home leave is an important part of reintegration as an individual can be tested on how they cope in the community, and this helps form the parole board decisions.
"Where an individual fails to return from unescorted leave, or breaches their license conditions, the Scottish Prison Service and Police Scotland work closely to ensure that the individual is located and returned to custody."