Woman jailed for grandfather murder in Leith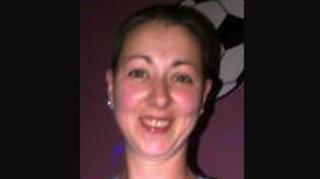 A woman has been jailed for life after stabbing a grandfather to death in Edinburgh.
Seka Ritchie, 32, from Edinburgh, was ordered to serve at least 17 years in jail for murdering Alexander Duncan at his home in Leith on 16 April 2015.
Ritchie smashed a bottle over Alexander Duncan's head and stabbed him.
Her ex-girlfriend, Tracey McLean, 30, from Edinburgh, had also faced a murder charge but during the trial the Crown accepted her not guilty pleas.
Ritchie had denied murdering Mr Duncan but was found guilty by a jury at the High Court in Edinburgh on a majority verdict.
'Swift end'
She had previously been imprisoned for 12 months for a life-endangering attack with a knife on Mr Duncan, 59, who was also known as Addy, at Linksview House, in Leith, on 21 August 2003.
After the verdict Mr Duncan's daughter, Sharman Wilson thanked those involved in bringing her father's killer to justice.
"Although this does not make up for the taking of his life, it has brought some closure to what has happened," she said.
"Hopefully we can now let my father rest and as a family we can grieve and help each other through this tough time."
"We would like to thank Police Scotland for bringing the case to a swift end.
"We, as a family, are relieved it is all over as it has affected all our family and we now have the justice that we were seeking."
Det Ch Insp Martin MacLean, who led the investigation, said Ritchie had never explained why she murdered Mr Duncan.
"Seka Ritchie betrayed his trust and friendship and, for reasons that she alone knows and has refused to divulge, she attacked and killed him in his own home in a manner that, the evidence suggests, was completely unexpected and against which he was unable to offer any resistance," he added.
"This was a challenging and protracted investigation that was compounded by the lies repeatedly told to the police by certain individuals but in particular Seka Ritchie as she sought to cover her involvement in the crime."
The court heard that Ritchie insisted on going for a drink at a bar after the fatal attack where she washed blood from her hand and appeared "quite excited" and "jubilant" as she caught a bus home with her then girlfriend.
Mr Duncan's body was found in his Primrose Street flat by his partner days later on 19 April 2015.
Previous stabbing
Unemployed Ritchie told police she had never been in a relationship with Mr Duncan and said: "I am only interested in females."
She said she first met him when she was aged about 18. She said she had previously stabbed him but added: "Things were fine between me and Addy.
"He didn't seem to have any hard feelings towards me. He just said I was 'a silly lassie' for doing it," she said.
Ritchie said she had been with her then girlfriend Tracey McLean on 16 April when she spotted Mr Duncan, who she had not seen for a long time, outside the Marksman Bar in Duke Street.
He bought them a drink before they later went to his flat. He bought vodka on the way.
Ritchie claimed that when she later left Mr Duncan's flat he was fine and did not have any injuries. She alleged that she and her girlfriend left after a man called "Stevie" turned up at Mr Duncan's home.
She claimed that the man "seemed angry, but not particularly threatening or intimidating".
No commotion
She said: "I don't know how Addy died and I had no involvement in his death." She claimed she was "shocked" when told police were investigating his death.
However, blood from the dead man was found on clothing she had worn and her former girlfriend told the court she had seen Ritchie attack Mr Duncan with a bottle.
Ms McLean told the court she left the living room to use the toilet and said she did not hear any shouting, swearing or commotion, but witnessed the bottle attack as she returned.
She said Ritchie had later told her that if anything came of what had happened that they would say "a guy called Stevie" arrived at Mr Duncan's home and they were told to go.
Police later recovered letters Ritchie wrote to Ms McLean. In one, she wrote that she would be taking full responsibility for what happened.
She also expressed the hope that Ms McLean was not angry with her, but was entitled to be.
Ritchie was also convicted of attempting to pervert the course of justice in the wake of the murder over the false claims about "Stevie".