Teenager pleads guilty to causing Edinburgh nurse death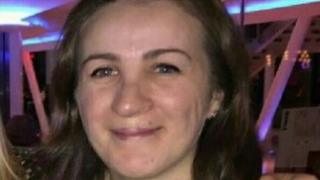 A teenager has pleaded guilty to causing the death of an Edinburgh nurse by driving dangerously.
Dylan Jenkin, 18, was driving a Ford Ka which struck and killed mother-of-one Jill Pirrie, 33, on Old Dalkeith Road on Thursday 12 May 2016.
Ms Pirrie, from Edinburgh, had been walking home from work at the Edinburgh Royal Infirmary when she was killed.
Lord McEwan deferred sentence until next month to allow background reports to be prepared.
Defence advocate Brian McConnachie told the High Court in Edinburgh he would reserve his plea of mitigation until the sentencing hearing.
Said sorry
Jenkin, who only held a provisional driving licence, had failed to stop for police officers who were trying to stop him for driving without having any insurance for the car.
The court heard that Ms Pirrie was struck from behind and was thrown against a wall causing her to suffer fractured ribs and severe chest and head injuries. She died later in hospital.
Meanwhile, Jenkin ran from the scene and did not give himself up for another day.
He later turned up at hospital for treatment and confessed that he was responsible for the crash.
Prosecution lawyer Alex Prentice QC said: "On the morning of Saturday 14 May, while the accused was being treated (in hospital for his injuries), he was asked if he knew why the police were present.
"He broke down, started crying and repeatedly said 'I didn't mean to kill her.'
"He acknowledged that the police had been behind him when he was driving the car. He maintained the brakes had failed.
"He started crying again and continually said he was sorry.
"Road traffic collision investigators examined the vehicle and found no defects which would have caused or contributed to the collision."
Jenkin, a prisoner of YOI Polmont in Stirlingshire, also pleaded guilty to other traffic offences before judge Lord McEwan.
Mr Prentice told the court: "She (Ms Pirrie) was a much loved mother, daughter and partner who leaves behind her five-year-old son Matthew, who is now in the full time custody of his father."
The prosecution lawyer told the court Jenkin and a friend had bought the car for £40 from a man who advertised it on Gumtree, an online sales site.
State of disrepair
On 12 May 2016, Jenkin drove the car around Edinburgh with a number of passengers.
About 19:45 that night, two police officers saw Jenkin driving the car in the city's Milton Road.
Mr Prentice said the Ka was "in a state of disrepair" and officers checked the police national computer because they were suspicious about the vehicle.
After discovering the vehicle wasn't insured and that the DVLA had been notified that it was off road, the officers asked for assistance.
A BMW traffic police car then responded and requested Jenkin to stop the car on the A7 road close to a "park and ride".
Mr Prentice said: "The accused failed to stop the vehicle and accelerated away from the police.
"The police officers informed the control room that the vehicle had failed to stop and was now being pursued.
"The accused continued to accelerate northwards on the A7."
Two separate witnesses said he was driving at "a grossly excessive speed" towards Danderhall at the junction with Newton Church Road and passed a witness standing at a bus stop.
Jenkin is due to sentenced at the High Court in Glasgow on 8 August.