Delays as gantry at Queensferry Crossing is installed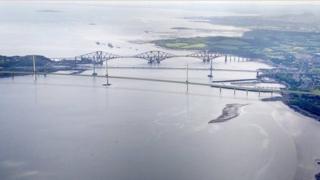 Motorists are being warned to expect delays as an overhead gantry is installed on the A90 near South Queensferry on Saturday.
It is the first of two installations as part of the road upgrade for the new Queensferry Crossing.
It will be installed on the southbound carriageway at the point where the A90 to Edinburgh and the M90 Spur separate.
Lane restrictions will affect the A90 in both directions from 20:00 with full closure southbound from 23:00 to 05:00.
The southbound carriageway on the M90 spur will close completely between 21:00 on Saturday and 05:00 on Sunday.
Traffic approaching the Forth Road Bridge from the north will be re-directed via Kincardine Bridge.
The outside lane on the M90 spur northbound will also close from 21:00, before reopening at 05:00.
Steven Brown, Transport Scotland roads and infrastructure manager, said: "This work has been planned to take place overnight and at the weekend to minimise restrictions and delays for road users as far as possible."