Liam Fee social worker 'failed to assess risk'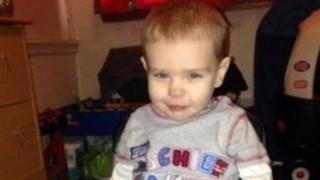 The social worker assigned to murdered toddler Liam Fee failed to take necessary steps to assess the risk he faced, a conduct hearing has heard.
Lesley Bate did not even take action when it emerged the couple convicted of his murder lied about taking him to a GP, the hearing was told.
The 60-year-old faces 13 conduct charges relating to her work at Fife Council, two of which involve Liam.
She has chosen not to appear at the hearing but denies the charges.
They include allegations that she "failed to take necessary steps to minimise actual or potential risk of harm" to Liam.
Fife Council Child Protection Team leader, Karen Pedder, 45, has been giving evidence to the Scottish Social Services Council (SSSC) hearing.
She earlier told Rachel Trelfa and Nyomi Fee's trial over the murder of Liam that the two-year-old had "fallen off the radar" after Ms Bate went off sick in April 2013.
Joint investigation
At the hearing, Ms Pedder ran through the history of Liam's case within her team - and said Ms Bate had not taken any action after it emerged the Fees had lied about taking him to a GP when concerns were raised about a neck injury he sustained.
She said: "The referral came from a childminder on 15 January 2013 and it was allocated to Lesley Bate.
"She created an entry on the computer system relating to a joint investigation visit and that the health visitor and school were to be contacted.
"It said there was no further social work involvement required."
Asked by solicitor Gary Burton, presenting the case for the SSSC, if contact with the school and health visitor should be noted in the system, Miss Pedder said: "Yes. But there is no evidence that took place.
"No further action took place between 15 January and the next referral in February."
Miss Pedder said there was no record of conversations taking place with Liam's health visitor, childminder or nursery following the February contact - despite her having been explicitly told to follow it up.
Mr Burton asked: "Having considered this and given the lack of follow up what would your comment be on whether she took the necessary steps to minimise actual or potential risk of harm?"
Miss Pedder replied: "In my view she failed to take appropriate steps to assess the full risk of any potential harm that might be around for the child."
She added: "My perception was Lesley Bate did as little as possible to get by and was happy for other people to do her work."
The SSSC sub-committee was earlier told Ms Bate has "relinquished" her social worker registration - but does not admit any wrongdoing in relation to the charges.
The hearing continues.