Growth recorded at hospital IT firm Craneware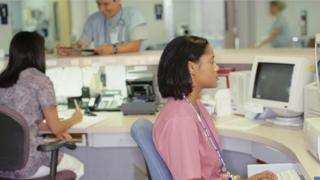 An Edinburgh firm specialising in software for American hospitals has reported growth in revenue and profits.
Craneware, which is one of Scotland's leading technology prospects, raised revenue in the year to June by 11% to $50m (£37m).
The total value of contracts went up more sharply, from $73m to $82m (£61m), with a high rate of renewal and new sales up 63% to $59m (£44m).
Pre-tax profits were up 10% to $14m (£10.5m).
'Strategic provider'
Craneware faced tough trading conditions as US healthcare clients went through significant changes and uncertainty, but it returned to growth in the past three years.
It has expanded its range of software products beyond revenue management for healthcare.
Its "value cycle" software links invoicing and payments to data on health outcomes and subsequent costs.
Later this year, it will launch a new software product to help hospitals engage with patients.
Craneware chief executive Keith Neilson compared the company's position with the point it was floated on the Alternative Investment Market (AIM), saying: "Craneware is in a stronger position than ever and we are passionate about the opportunity ahead.
"The investment we are making in our product suite means our market opportunity is now several times larger than it was when we joined AIM in 2007.
"We are now recognised beyond our original niche within the revenue cycle as a more strategic provider within a hospital's financial operations and their value cycle."
Craneware was founded in 1999. With headquarters in Edinburgh, it has offices in Boston, Atlanta and Phoenix and employs 200 people.