New appeal over Devilla Forest human remains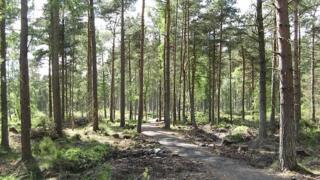 Police investigating the discovery of human remains in a Fife forest near Kincardine are making a fresh appeal.
Members of the public found what is believed to be the body of a man on Sunday in the woods at Devilla and despite an extensive inquiry the body is yet to be identified.
The man was wearing glasses, outdoor clothing and carrying a red and black rucksack.
Officers said so far 11 people have come forward with information.
Det Ch Insp Scott Cunningham, of Police Scotland, said: "My number one priority continues to be identifying this person and providing any family or friends with answers as to the cause of their death.
"I'm really grateful for the response so far, but I cannot rule out that this person was not local to the Fife area, and so I would ask members of the public across the country to have a think about anyone they know of who has clothing like the items found in the Devilla Forrest and who hasn't been seen in a while.
"The death continues to be treated as unexplained at this time and we hope to have more answers following the post mortem, but if anyone out there has any information they believe is of relevance to our ongoing inquiries then please contact police immediately."