Meeting promised by government over empty coffin case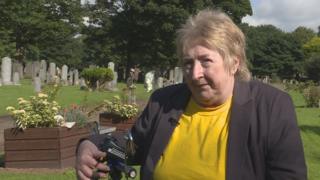 The first minister has promised the government will meet with an Edinburgh mother who discovered her dead baby's coffin was empty after being buried 42 years ago.
Lydia Reid's son Gary died at seven days old in Edinburgh's Hospital for Sick Children in July 1975.
The 68-year-old discovered his coffin was empty after it was exhumed following a court order.
Ms Sturgeon gave her sympathies to Ms Reid and her family.
She was speaking after Tory MSP Gordon Lindhurst raised the issue at First Minister's Questions.
He said: "This revelation comes after 42 years of her seeking to discover what happened to the remains of her child and her leading the campaign which exposed how hospitals had unlawfully kept deceased children's body parts for research purposes.
"Will the first minister commit to finding the answers to what happened in Lydia Reid's case and can she confirm that everything will be done to discover whether this has happened to other families as well?"
Ms Sturgeon said: "It is very difficult for any of us who haven't gone through experiences like this to fully appreciate and understand the distress that Lydia Reid and any others in a similar situation would be experiencing and I can only imagine what that must be.
"Clearly there has been some work around issues of this nature in the past, but I will give an assurance today that the relevant minister will be happy to meet with Lydia Reid to see what the Scottish government or our agencies can do to try to ensure that she gets the answers that she certainly deserves and will personally feel she needs in order to allow her to move on from this revelation.
"I will give that assurance to the member today, and will take steps to ensure that meeting happens as soon as possible."
Forensic examination
Last week Ms Reid said a report concluding the coffin was buried without human remains was "devastating".
The exhumation was conducted by forensic anthropologist Prof Sue Black.
During the exhumation, Prof Black found a shawl, a hat, a cross and a name tag in the burial plot at Saughton Cemetery in Edinburgh, as well as the disintegrated coffin.
The forensic scientist said there were no skeletal remains and no sign of decomposition.