CAA suspends Edinburgh Airport flight path review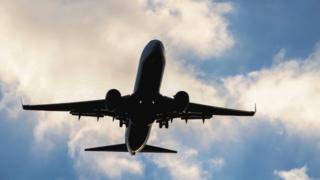 A Civil Aviation Authority (CAA) review of proposed changes to Edinburgh Airport's flight paths has been halted.
The airport had said the changes were necessary to cope with increasing numbers of passengers.
But local campaigners raised concerns about increased noise and the impact on communities.
The CCA said it had decided "not to continue its review into Stage 5 of the Airspace Change Process".
It said: "Our reasons for this decision largely relates to technical aspects of the proposal and this has been fully explained to the airport.
"If and when these issues are addressed, Edinburgh Airport will be free to resubmit their proposal."
Edinburgh Airport insisted its flight path proposals "work" and were "the best balance achievable".
Last month the airport said it had modified its plans following the latest public consultation.
There have been two public consultations held into the proposals.
The results of the first consultation were published in November. It ended a week later than planned after the airport was forced to apologise for losing almost 200 responses.
Almost 4,000 people responded to a second public consultation proposal.
'Best balance'
Responding to the CAA's decision not to proceed with its review of the changes planned at Edinburgh, a spokesman for the airport said: "Scotland's first airspace change programme in over 40 years is a complex exercise involving many organisations.
"Our airspace change programme is the first of many and it is clear that all of this needs to be co-ordinated with NATS (National Air Traffic Services).
"We're clear that our proposal is the best balance achievable in terms of surrounding communities and our operation, and works for Edinburgh and Scotland.
"We'll be working with NATS on the co-ordination issues to allow the CAA to restart its analysis so we can develop the airport for the future."
Campaign group Edinburgh Airport Watch welcomed the CAA's decision to halt the review.
A spokesman added: "These proposals enjoyed very little support in communities. The airport never needed all these flight paths, they operate fewer take-offs and landings today than 10 years ago.
"We must also remember the tens of thousands of people who continue to suffer daily noise abuse from Edinburgh Airport.
"The airport cannot continue to ignore the plight of all these people in their homes and we call on them to learn from their past mistakes, and start a proper, meaningful and respectful dialogue with communities that leads to substantial improvements."