Ex rugby player jailed for Dunbar raid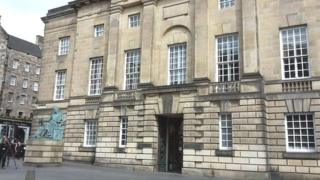 An ex rugby player has been jailed for three years after taking part in a raid on a woman's East Lothian house during which robbers claimed to be police.
Kenneth Blyth, 33, and his accomplice William Gardner, 51, both from Edinburgh, smashed their way into Lisa Watter's Dunbar home armed with knives.
Judge Tom Hughes jailed Gardner for for five and a half years.
Blyth and Gardner both earlier admitted assaulting and robbing Ms Watters on 20 April 2017.
'Big, bulky men'
The pair broke glass in the front door before robbing her of money, jewellery, watches and drugs.
Mr Hughes told the robbers at the High Court in Edinburgh: "You are two big, bulky men. This was a woman on her own. She must have been extremely distressed by what you did."
The judge said they had been involved in a "very disturbing incident".
He told Gardner: "Because of the serious nature of the offence and also because of your record of previous convictions a custodial sentence is inevitable."
Defence counsel Lorraine Glancy said that Gardner had a long term problem with addiction to heroin.
She said: "He understands that the experience for the victim would have been a frightening one and he understands that it is completely unacceptable behaviour on his part."
Tony Lenehan, counsel for Blyth, said: "He played rugby at a high level, reaching the stage of semi-professional."
Mr Lenehan said that a knee injury Blyth sustained in 2009 effectively ended his sporting career and was prescribed an opiate based painkiller. He said that when doctors realised that there was a problem with this he was then given methadone.
He told the court: "This is not a man of violence." He said Blyth had never previously been jailed.