Mary, Queen of Scots sketch found under 16th Century painting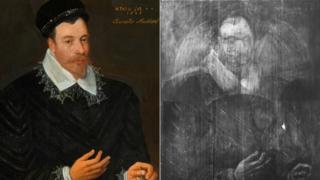 A portrait believed to be of Mary, Queen of Scots has been found beneath a 16th Century painting.
The drawing was revealed in an X-ray of the 1589 portrait of Sir John Maitland, Lord Chancellor of Scotland.
The painting was done by Adrian Vanson, a portrait artist for Mary's son King James VI, two years after she was executed.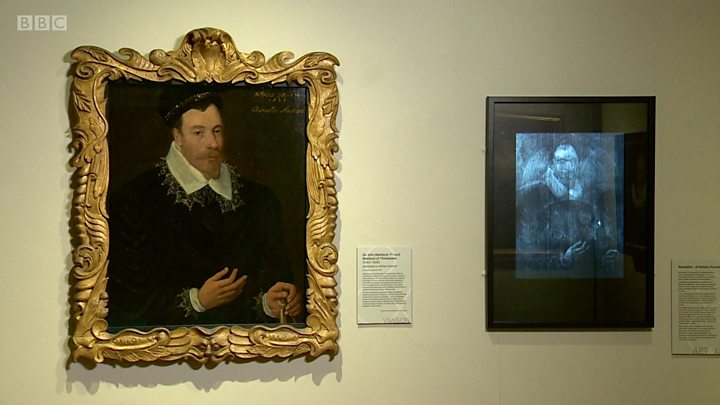 The portrait and X-ray images will be on display at the Scottish National Portrait Gallery from Saturday.
There are few authentic portraits of Mary, Queen of Scots and images from her life in Scotland are particularly rare.
The painting, completed two years after Mary was accused of plotting to kill Queen Elizabeth I and beheaded, usually hangs in the National Trust's Ham House near London.
Elizabeth was still alive at the time, and Mary's son James VI of Scotland did not accede to the English throne as James I until the Union of Crowns 14 years later.
'Exciting revelation'
David Taylor, curator of pictures and sculpture at the National Trust, said the "remarkable discovery" added an "exciting hidden dimension" to the painting.
He added: "It shows that portraits of the queen were being copied and presumably displayed in Scotland around the time of her execution, a highly contentious and potentially dangerous thing to be seen doing."
The hidden portrait was discovered by conservator Dr Caroline Rae from the Courtauld Institute of Art, London, who described it as an "exciting revelation".
She used an X-ray technique that penetrates layers of paint but is stopped by heavy metals such as lead white, which was used to create the image underneath.
The sketch is similar to depictions of Mary, Queen of Scots from her later years.
The face has a resemblance to paintings of the queen by Nicholas Hilliard and her tilted head with hands at the waist is also similar to other portraits.