Couple buried after spending 15 years in Edinburgh mortuary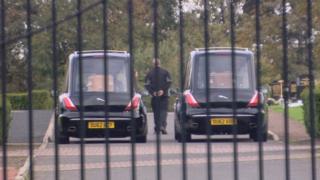 A couple whose bodies were held in a mortuary for 15 years after being discovered in a freezer in a former fishmonger's shop have been buried.
Eugenios and Hilda Marcel were embalmed after they died in Edinburgh in the late 80s and early 90s.
Their son Melvyn Marcel had opposed their burial and wanted to build a private mausoleum for his parents in the grounds of his property.
However, Edinburgh Council won a legal battle to arrange their funeral.
The couple were buried during a ceremony at Craigmillar Castle Park Cemetery on Thursday morning in front of a handful of people.
Hilda Marcel died in 1987 from lung failure, and her husband Eugenios died in 1994 from cancer.
The couple's bodies were discovered in the basement of a former fishmonger's shop in the city's Gilmore Place in 2002, during an investigation into alleged fraud at a funeral home in West Lothian.
It was claimed that staff at the Broxburn undertakers had been paid to preserve the remains.
Four employees were sacked, although none of those alleged to have been involved in the fraud were charged or prosecuted for any offence.
Following the discovery, Mr and Mrs Marcel's remains were taken to the city's Cowgate mortuary.
Their son Melvyn said he wanted to build a fridge at his Edinburgh home, then build a private mausoleum in the grounds of his property.
He eventually planned to take his parents' bodies to be buried in the West Bank.
In February, a judge ruled that Edinburgh City Council had the legal authority to bury their bodies.
Mr Marcel appealed against that decision, but it was upheld by appeal court judges.