Man sentenced for supplying loch death student Antoine Maury drugs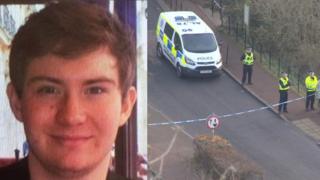 A man has been sentenced for supplying illegal drugs to a student who was found dead in an Edinburgh loch.
Scott Mckerral, 20 from Campbeltown, was given an 18-month supervision order and told to perform 210 hours of unpaid work on a Community Payback Order.
The body of Antoine Maury, 21, was found in Duddingston Loch after he went missing from a party at Edinburgh College on Milton Road last year.
He was sentenced at Edinburgh Sheriff Court.
Acting strangely
Mckerral, who was 19 at the time of the incident, had pleaded guilty previously to being concerned in the supply of a fungus containing psilocin, "Magic Mushrooms", at the halls of residence to "another or others and, in particular, to Antoine Maury" on 24 October 2016.
Maury, who was born in Paris, had been at Edinburgh College for three months.
After disappearing from the party there were sightings of him running towards Duddingston Golf Course and in Holyrood Park, acting strangely and stripped to the waist.
Divers, using sonar, scoured the loch and on 2 December, Maury's body was found.
Even after the length of time there were still traces of psilocin in the body.
Sheriff John Cook extended the sympathy of the court to the family of Antoine Maury and told Mckerral that, from the social work report, it was evident that he had suffered remorse and been deeply affected by his friend's death.
He said he took into account that Mckerral had been only 19 at the time and had no previous convictions.
Sheriff Cook added: "Furthermore, the effect of your youth, the bearing it might have on your offending, or your decision making, or the opportunities available to you, to yet make something of your life, are all relevant factors that the court must take into account".