Man jailed for revenge petrol bombings in Glenrothes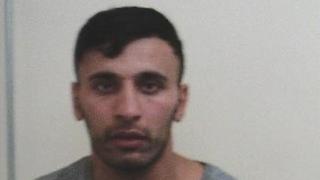 A businessman who petrol bombed two houses after footage of his brother being attacked appeared online has been jailed for 16 years.
Naveed Iqbal, 34, went looking for revenge following the assault at a McDonalds restaurant.
Iqbal targeted the properties in Glenrothes, Fife on 28 March 2017.
Iqbal was sentenced at the High Court in Glasgow on Friday after being convicted of two attempted murder charges.
'Extremely serious'
As well as adults, there were a total of eight children inside the houses - ranging in ages from 13 months to 13 years old.
An older teenager - thought to have been involved in the attack - lived in one.
A lit petrol-filled bottle was hurled through a window at each house before occupants fled in terror.
Lord Kinclaven said: "You have been found guilty of extremely serious crimes."
The judge added victim impact statements set out "the emotional and physical impact" for those involved.
Dad-of-three Iqbal continues to protest his innocence.
Jurors earlier heard Iqbal's younger brother had been the victim of an assault before a clip of the incident appeared on Facebook.
Iqbal - who runs a car repair firm - told the court: "I was a wee bit upset watching it. I was angry."
Iqbal said he had been unaware of any petrol bomb attacks until after they happened.
Ryan Easton, 26, from Airdrie, North Lanarkshire, had also faced the same charges, but jurors returned not proven verdicts.
Det Insp Paul Dick, of Police Scotland, said: "A teenage boy has been left permanently scarred as a result of Iqbal's actions which directly endangered the lives of 13 people, the youngest of which was a three-year-old girl.
"As a result of a thorough investigation which involved resources from CID, uniform officers and colleagues in forensics, Iqbal was identified as being responsible.
"CCTV proved invaluable in this inquiry, as did the support of the local community.
"Iqbal's actions could have had catastrophic consequences. He risked the lives of two families, as well as those of the residents living nearby, and we welcome this outcome."