Woman admits brutal killing of neighbour Colin Skilbeck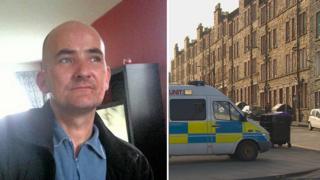 A woman has admitted killing her neighbour in a brutal assault with a knife and pan of boiling water.
Kathleen Downey and her husband attacked Colin Skilbeck at the door of a flat in Edinburgh's Fountainbridge.
The High Court in Edinburgh heard Downey threw a solution of water and sugar over the victim before Rene Howieson stabbed him repeatedly with a knife.
One wound penetrated Mr Skilbeck's heart.
Advocate depute Steven Borthwick said: "At some point in the course of the incident Kathleen Downey was handed the knife by her co-accused and also struck the deceased with it."
Mum-of-five Downey, 35, faced a murder charge, but the Crown accepted a culpable homicide plea on the basis of diminished responsibility.
Howieson, 36, had earlier admitted a murder charge.
Collapsed
Neighbour Mr Skilbeck had been staying at the property upstairs with Jason Hamilton, who previously had a relationship with Kathleen Downey's sister.
The court heard that the pair had split-up on bad terms and Downey was shown a threatening note by her sister.
Downey and her husband knocked on the door of the upstairs flat. Mr Skilbeck was warned by his flatmate not to answer the door to them.
He found Mr Skilbeck, 41, collapsed on the ground with blood coming from wounds in his chest.
Downey and Howieson, who both had alcohol and substance abuse problems, had married six weeks before the incident in March this year.
Both have previous convictions for possession of a knife.
Lord Armstrong called for background reports on the pair ahead of sentencing next month.