Bid to increase schoolboy killer's sentence fails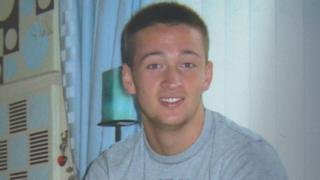 A bid to have Shaun Woodburn's killer's sentence increased has been rejected by prosecutors, his mother has confirmed.
A 17-year-old schoolboy was sentenced to four years detention for the attack on the junior league footballer in Edinburgh on New Year's Day.
The victim's mother, Denise Syme, said the family was "broken" over the news but said she would fight on.
It follows the collection of 66,000 names on a petition calling for the teenager's sentence to be increased.
Mrs Syme said: "I just want to let all my friends and all the people that signed the petition know that we have not been granted the appeal for Shaun's killer's sentence to be lengthened.
"We have now the agonising wait to find out if the killer's appeal against his conviction will be granted. Life is so unfair and unjust we are all broken but the killer will be smiling."
Mr Woodburn, 30, was punched outside Gladstone's pub in Leith and later died after suffering massive head injuries.
The teenager, who cannot be named for legal reasons, was convicted of culpable homicide, having originally faced a murder charge.
He had earlier attacked random strangers who had been celebrating Hogmanay in Edinburgh.
This had sparked a fight, which led to Mr Woodburn being fatally injured in the early hours of New Year's Day.
The teenager, who will be supervised for a further 18 months after his release. denied causing the death, but did admit to assaulting five other people in Edinburgh that night.
'No appeal'
Co-accused Mohammed Zakariyah, 19, was ordered to carry out 240 hours of unpaid work.
He pleaded guilty to two assaults and a breach of the peace.
A Crown Office spokesman said: "The Crown can proceed with an appeal that the sentence is unduly lenient only where the relevant test is met, namely, whether the sentence falls outside the range of sentences that a judge applying his or her mind to all of the relevant factors could reasonably have considered appropriate. This criteria is well established in case law.
"In this case, Crown Counsel have concluded that the test for an appeal has not been met and accordingly have decided there will be no appeal against the sentence.
"We have discussed this decision with the family of Shaun Woodburn."