Robber jailed for double raid on Edinburgh off-licence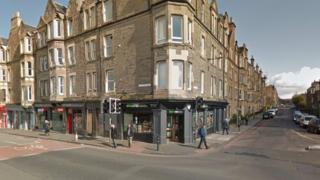 An armed robber who raided an off-licence twice within the space of two days has been jailed for four years and six months.
Ross Cummins, 31, was only out of prison on licence for one day when he carried out the first raid at The High Spirits store in Slateford Road at about 20:40 on 22 April.
He then targeted the same shop at about 21:45 on 24 April.
Each time he wore identical clothes and covered his face with a bag.
During the first raid Cummins threatened staff with a screwdriver and the second time with a knife.
Remaining sentence
Social workers, who compiled a background report on Cummins, who has nine previous convictions for assault and robbery, said he presented an imminent danger to the public.
Judge Johanna Johnston ordered Cummins, who is a prisoner in Edinburgh, to serve the remaining 20 months of his previous sentence and also to be monitored in the community for three years following his present sentence.
She told Cummins: "You are a man with a dreadful record. You were only just out of prison when you committed these offences.
"You caused terror and severe injury to a member of the public. You are at imminent risk of causing serious harm to the public."
Cummins admitted two charges of assault and robbery at High Spirits in Edinburgh on 22 and 24 April. In the first raid he fled with between £30 and £40 and in the second around £125.
During the first robbery student Nathon Malone, 23, who was working at the off-sales suffered a partially dislocated left kneecap.
He was injured when Cummins pushed at a door and Mr Malone tried to close it. Mr Malone fell injuring his knee. He crawled to the till, opened it and handed Cummins cash.
In the second robbery Cummins threatened staff with a knife.
Both robberies were caught on CCTV and that led police to Cummins.
Cummins was jailed for three and a half years in July 2015 at the High Court in Edinburgh and released on 21 April this year.
His defence counsel Matt Jackson said: "My client has only been out of prison for three weeks since 2013.
"He has a considerable drug addiction and had a difficult childhood marred by violence. He is desperate to change his ways."