Shopkeeper fights off armed robber with racquet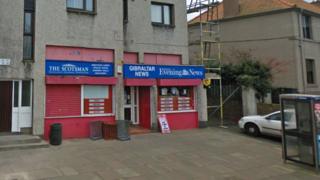 A shopkeeper fought off a knife-wielding robber by hitting him over the head with a badminton racquet.
Shazhad Butt hit back after masked thief Brian Lamb burst into his shop demanding cash.
Lamb pulled a knife from his jacket and threatened Mr Butt before fleeing empty-handed from the newsagents in Dalkeith, Midlothian.
The 37-year-old was jailed for a total of 33 months when he appeared for sentencing at Edinburgh Sheriff Court.
During his trial, the court heard how Lamb had broken a 07:00 to 19:00 court curfew by leaving his home to carry out the attack at about 06:30 on 21 June last year.
Extensive record
Lamb was also found guilty of telling police officers he would slash Mr Butt's throat when he was released from custody.
Sheriff Alistair Noble told Lamb he would be supervised for 12 months following his release from prison.
The sheriff said: "I don't think there is any alternative to imposing a custodial sentence in this case due to the gravity of the offence of attempted robbery.
"You do have an extensive record which includes a previous conviction for assault and robbery.
"You ran into the shop, leant over the counter and presented a knife to the shopkeeper who used a badminton racquet and you then ran out of the shop.
"This was a serious and concerning matter for the shopkeeper."