Edinburgh's Christmas: Record number of tickets bought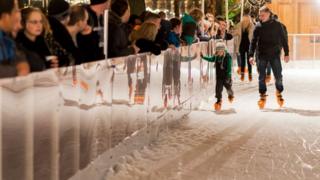 A record number of tickets were snapped up for Edinburgh's Christmas - with a 13% rise on the year before.
There were 781,520 tickets bought for the rides, attractions and shows. The 2016 total was 690,878.
People from 47 countries visited the Christmas attractions.
Locals also took advantage of their 20% discount with 142,333 tickets booked.
That was up by 9% on the corresponding figures for 2016.
Winter wonderland
Charlie Wood and Ed Bartlam, Edinburgh's Christmas directors, said: "What another bumper year with record tickets sales and more locals than ever engaging in Edinburgh's Christmas.
"In our fifth year of producing the event, we were delighted to introduce some great new attractions, most especially the Ice Adventure which transported visitors into an historical and mythical Scottish winter wonderland."
"We are especially proud of the extension of Winter Windows out of the city centre and into local communities and of the introduction of Edinburgh's Giant Advent Calendar - both entirely free attractions that help spread Christmas joy across the city."
Edinburgh's Lord Provost Frank Ross said: "Edinburgh's Christmas was a real show-stopper, with more tickets sold than ever before, a welcome rise in the number of Edinburgh residents enjoying their local discount, and people from 47 countries flying in to experience the city's rides, attractions and everything the city has to offer.
"In its fifth year, Edinburgh's Christmas certainly remains one of the UK's favourite winter destinations. Today's figures prove the Festival continues to attract record numbers of visitors and supports footfall to the city centre - providing a welcome boost to our local economy while bringing everyone together to enjoy Edinburgh in winter. A huge well done to everyone involved."