Edinburgh school struggles to find maths teacher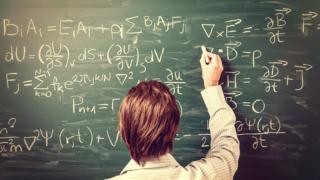 A second school in Edinburgh has failed to recruit a new maths teacher, BBC Scotland can reveal.
No suitable candidates applied for the vacancy at Broughton High School.
The school blamed the shortage on "the national shortage of maths teachers".
Trinity Academy in Edinburgh has not been able to fill two vacancies for several months.
While some other schools may be facing more serious recruitment problems overall, the fact two schools in Edinburgh have been unable to fill routine vacancies in a major subject throws the issue into sharp focus.
Both schools enjoy good reputations.
In a letter sent to parents at Broughton High, its head teacher John J Wilson said a new maths timetable would be in operation from next Monday as a teacher had left for personal reasons.
Mr Wilson wrote: "We attempted to fill the vacancy through national recruitment but did not receive applications from suitably experienced candidates.
"Please be assured that we will attempt to recruit again as soon as possible."
Supply teachers
Edinburgh City Council confirmed to BBC Scotland that in the meantime, some maths lessons at the school will be covered by other maths teachers and supply teachers.
At Trinity some maths lessons are being led by teachers who normally teach other subjects, although they all studied maths at university level.
Trinity strenuously denied claims in some newspapers that parents and university students had been asked to teach or take classes, describing the reports as "fake news". However university maths students do provide additional support for children.
A number of councils told BBC Scotland in August that they had experienced difficulties recruiting science, technology and maths teachers.
Official figures last month showed the overall number of teachers working in Scotland had gone up. The current government funding deal for councils means they cannot normally cut teacher numbers.
However there are specific recruitment difficulties - particularly in rural areas and in certain subject areas.
New routes
There has been debate within the profession and government over how to deal with this underlying problem.
One question is over how to encourage more science and maths graduates - who may have a number of career options - into teaching.
A number of new routes into teaching have been introduced aimed at those who do not fancy a traditional postgraduate diploma in education followed by a probationary year. A national advertising campaign to encourage people into teaching is continuing.
Individual councils have introduced schemes to try to resolve local problems - for instance marketing the area or offering "golden hellos" such as free accommodation for a fixed period.
Some also argue that teachers' pay and conditions need to be improved.
The EIS argue that teachers' pay has not kept pace with inflation and are calling for it to be restored to "pre-austerity levels".