Man jailed for 10 years after workmate knife attack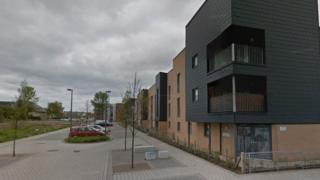 A man has been jailed for 10 years after trying to murder a workmate in a knife attack.
Thomas Telford left his victim Callum Thomas scarred for life and without one of his kidneys following emergency life-saving treatment.
Mr Thomas was stabbed seven times after an after-work drinking session in Edinburgh in August 2016.
Telford was told by a judge if it was not for paramedics and surgeons he would be facing a sentence for murder.
Lord Uist told the 21-year-old: "The attack which you carried out on Mr Thomas was both shocking and merciless and you have shown no remorse."
He said: "He came as near to death as it is possible to come. It is only because of the speed and skill with which the paramedics and surgeons acted that you are now not facing a sentence for murder."
'Drastic consequences'
The judge said it was certain the victim would have died without the treatment he underwent which included removing his right kidney.
He pointed out that Telford stabbed his victim seven times on different parts of his body and inflicted some of the wounds when he was trying to get away after taking the knife from a knife block in the kitchen.
At the High Court in Edinburgh, Lord Uist said that the attempted murder occurred after they had been on "a drinking spree".
A defence counsel told the court: "This is yet another case where caffeinated alcoholic drinks have been taken by young men and there have been consequences."
Michael Anderson said he accepted the consumption of alcohol was not a mitigating factor but added: "It is a matter this court has seen on numerous occasions where caffeinated alcoholic drinks are taken and the consequences are drastic."
Mr Thomas earlier told Telford's trial that after finishing work they had each drunk five pints of lager and a bottle of Buckfast tonic wine before going to his home in Lurie Place, Niddrie, in Edinburgh, on 12 August in 2016 to drink vodka.
'Left for dead'
He said he went for a shower and returned to his living room to see Telford stabbing the wall with a large kitchen knife.
He said he punched Telford in the face but was then stabbed twice in the abdomen. He said he fell to the floor and a neighbour who heard the commotion ran to his house and tried to intervene but was pinned against a wall by his attacker.
Mr Thomas said: "I tried to dive over my couch to get to the kitchen, bleeding from my lower stomach. As I went over the couch I was getting stabbed in my back by Thomas."
"He attacked me again. I fell to the ground because of loss of blood and he proceeded to stab me again on my right knee and in the front of my right thigh," he said.
A policewoman who later attended at Telford's home in Glasgow following the incident said he told her: "I stabbed him. I've left him for dead."
As he left with police he said to his father: "I'll see you in 15 years."
Telford later told another officer: "I should have buried the body."
'Brutal attack'
Telford, formerly of Barlia Drive, Castlemilk, Glasgow, was earlier found guilty of attempting to murder Mr Thomas by repeatedly striking him on the body with a knife to his severe injury, permanent disfigurement and to the danger of his life.
He was also convicted of assaulting the victim's neighbour Lillian Hood and disposing of the knife used to stab Mr Thomas.
Det Ch Insp Paul Grainger, of Police Scotland, said: "Thomas Telford carried out this brutal attack on his work colleague with no care for the consequences or the seriousness of the injuries.
"He has now received a substantial jail sentence as a result of his actions.
"Tackling violent crime is a priority for Police Scotland and, as in this case, we will always carry out a thorough investigation in order to bring the suspect to justice as soon as possible.
"Mr Thomas had to endure life-saving surgery and I hope this will help him to put this behind him and move on with his life."