Double rapist jailed for attacks on women in Edinburgh and Livingston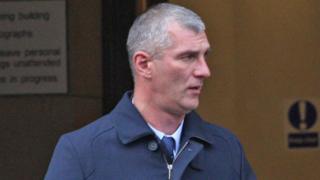 A rapist who attacked two women in Edinburgh and West Lothian has been jailed for 12 years.
A court heard Radoslaw Witek, a former bouncer, subjected one woman to such constant abuse she started thinking it was "normal".
The 39-year-old claimed an attack on the other woman was "farewell sex".
Witek was sentenced at the High Court in Glasgow after being convicted earlier after a trial in Edinburgh of charges including rape and assault.
The offences occurred in Livingston, West Lothian, and at a house in the capital.
Lord Armstrong said he was guilty of "grave" crimes and that one woman believed he was going to kill her.
One woman told how she had suffered for six years up to 2012.
The 35-year-old said: "It was happening so regularly I was beginning to think it was a normal way of life."
The second woman, also 35, was attacked in 2016 and later sent a text to a friend that she had been raped.
Witek said: "There had been some situations where we were saying 'bye, bye' to each other and we had farewell sex."
The 39-year-old, from Edinburgh, was placed on the sex offenders register.