Golden eagle disappearance 'highly suspicious'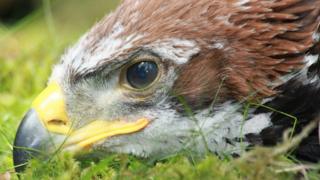 A group set up to highlight the killing of birds of prey has said the disappearance of a golden eagle is "highly suspicious".
It was one of a number of birds tagged by Raptor Persecution UK last summer.
The organisation said it lost signal from the eagle on 21 January on the outskirts of Edinburgh before it showed up offshore and then disappeared.
It said it believed the bird had been killed and its tag signal suppressed and then dumped in the North Sea.
The golden eagle - named Fred - hatched at a nest in the Scottish Borders to the only breeding pair in the region.
It headed to the Pentland Hills in January before the tag signal was lost near a grouse moor.
It began transmitting again about 10 miles offshore from St Andrews in Fife three days later before the final signal was received, also offshore, on 26 January.
Dr Ruth Tingay of RPUK, said it was "beyond doubt" that Fred's disappearance was "highly suspicious".
She said golden eagles did not generally fly out over large bodies of water but even if it had they should have had tracking data.
"While we will probably never know for sure, it seems likely that Fred was killed soon after 10:00 on 21 January, his tag was hidden to suppress the signal and then he and the tag were dumped in the North Sea," she said.
"If this is indeed the case, it's just the latest example of when those who have killed a protected bird of prey have tried to cover up evidence of their crime."
Broadcaster and campaigner Chris Packham said what was "truly shocking" was that it had happened near Edinburgh, not a "remote Highland glen miles from anywhere".
'Full facts'
"This doesn't bode well for the planned reintroduction of golden eagles to south Scotland, due to begin later this year," he added.
Environment Secretary Roseanna Cunningham told Mr Packham it was an issue the Scottish government took "very seriously".
She added that it was taking action to reduce wildlife crime levels and would also increase sentences for such offences.
A spokesperson for rural business organisation Scottish Land and Estates said: "We understand that the bird's disappearance is not being investigated as a crime.
"We need to learn the full facts prior to establishing any conclusions but it should be noted that the location where the eagle disappeared is not an area of intensive grouse shooting.
"Our members, who wholeheartedly condemn all forms of wildlife crime, would echo the call for anyone with further information to pass this to Police Scotland in the first instance."