Luminous green river mystery solved in Edinburgh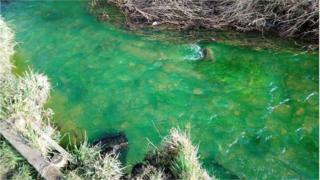 A mystery of why an Edinburgh river suddenly turned a bright green colour has been solved after an investigation by environment protection officers.
The Braid Burn was said to look "like something out of a science fiction movie".
The colour is believed to be due to dye which is used for tracing drainage outfalls.
The Scottish Environment Protection Agency (Sepa) said only non-toxic chemicals are allowed to be used.
Antonia Hynd, 43, from Edinburgh said she was walking through the Braidburn Valley Park on Tuesday with her four-year-old twin daughters when she saw the river had changed colour.
She told the BBC Scotland news website: "My daughters started shouting 'Mummy the water is green' and when I looked at the river it was like something out of a science fiction movie - it was glowing.
"It looked pretty freaky. Then I saw people hauling their dogs out of the river and others wondering what was wrong with the river.
"People were shocked so I called Sepa.
"I didn't know about dye testing before today and as long as its 100% completely environmentally friendly then that's OK because it didn't look it."
A Sepa spokeswoman said an investigation had revealed it was non-toxic dye which posed no hazard.