City of Edinburgh Council approves 3% council tax rise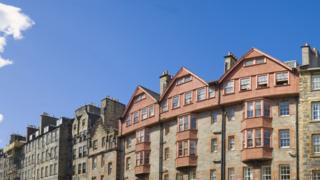 A 3% rise in council tax has been agreed by councillors in Edinburgh.
The increase is one of a range of measures considered at a full council meeting, with councillors needing to make savings of £28m.
The council said it would continue to prioritise frontline services for young, old and vulnerable residents.
In the year ahead it plans to make "significant additional investments" in health and social care, homelessness and improving school buildings.
Staff earning under £36,500 are to receive a 3% increase in wages, while there will be a 2% rise for those earning over that and a £1,600 lump sum for those earning more than £80,000.
The council is also reinstating the night noise team, giving £255,000 to that fund following a large number of complaints from residents about noise in tenements.
Edinburgh Leisure, which runs many sports facilities in the city, has been asked to cut £270,000 from its budget.
Funding allocation:
Almost £200m provisionally allocated for health and social care services - an increase of nearly £13m
£8.5m for improvements across the council's property estate, including schools
£2m for initiatives to tackle homelessness
£1m to continue the current year's investment on waste and cleansing
£10m for a new care home
£1m to upgrade and create play parks
The budget also includes an additional £400,000 for lower income families - creating a holiday hunger fund so children can benefit from a school meal outside term time, as well as increasing uniform grants.
Funding will be provided for cultural venues, such as refurbishing the King's Theatre, re-opening the Leith Theatre and contributing towards construction of a new concert hall for Edinburgh as part of the City Region Deal.
Councillor Alasdair Rankin, convener of the finance and resources committee, said: "When forming the coalition, we pledged to deliver improved services for residents and communities over the next five years.
"We have taken opportunities in this, our first budget, to do things differently and invest in key areas, delivering on our 52 coalition commitments.
"We are committed to protecting frontline services and maintaining investment in areas which will provide more support for our most vulnerable residents and, despite an uncertain financial climate, we have set a balanced budget for Edinburgh, as well as securing funds for improvements throughout the city."
Vice convener Marion Donaldson added: "Thanks to the feedback gained during the budget engagement process we have been able to make decisions such as keeping the Night Noise Team, we will provide more funding to Edinburgh Leisure than originally planned and we will offer exemptions on paying for garden waste collections."
The council said it had a budget of £989m and would be making savings of £28m. It has already saved £240m in the past five years.
Edinburgh council tax bands for 2018/19
A - £826.79
B- £964.60
C- £1,102.39
D- £1,240.19
E - £1,629.47
F - £2,015.31
G - £2,428.71
H - £3,038.47