Child abuse case review identifies more than 20 suspects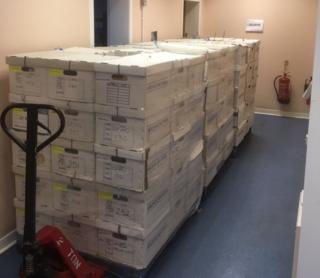 More than 20 people have been reported in connection with historical child abuse after police reviewed thousands of old records.
Detectives from the Public Protection Unit have spent 18 months reviewing more than 200,000 old case records.
Police Scotland said the creation of a single national force allowed links to be made that may have not previously been apparent.
Some of the cases looked at date back to the 1960s and 1970s.
The review was prompted by the setting up of the Scottish Child Abuse Inquiry in 2015.
Officers have been dispatched to numerous locations across Scotland, boxing up old files and transporting them to West Lothian, where they are centrally reviewed by a team in Livingston.
Det Ch Insp Catriona Henderson said the creation of a national police force offered new opportunities to make connections.
She said: "We're policing in different circumstances. We are now Police Scotland and we've got the benefit of the resource that that brings with it.
"Prior to the creating of Police Scotland it was eight legacy forces, so we can now identify opportunities and make links - and also make use of technology advances to progress investigations that perhaps were not possible to progress in the past.
"We would, for example, be able to identify a person who had been subject of an investigation in one part of Scotland and then find there's been another one in another part of Scotland - and marry those two up, and use that as a form of corroborative evidence in some cases."
So far about 8,500 files have been collected which fit the terms of reference of the Scottish Child Abuse Inquiry - cases where the victim was abused while in care.
The operation is expected to carry on until the end of the Child Abuse Inquiry which is scheduled to last until at least next autumn.