Man admits stabbing neighbour to death in Glenrothes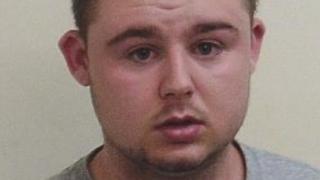 A man has admitted murdering his neighbour because he thought he had sexually assaulted two 14-year-old girls, a court has heard.
Greig Love, 20, stabbed father-of-three Daniel O'Farrell, 21, in Glenrothes, Fife, on 9 September 2017.
At the High Court in Glasgow, judge Lord Matthews deferred sentence on Love, who is in custody, until next month for background reports.
Love said he had anger management issues.
The first-time offender confronted Mr O'Farrell after it was alleged he had sexually abused two teenage girls at a party.
Mr O'Farrell had denied the allegations.
He then went home. Later that morning Love went to Mr O'Farrell's house, armed with two knives, and stabbed him three times in the chest and back. One knife was left embedded in his back and the blade of the other knife was left in his chest.
After the attack Love, who was upset and crying, went to his parents' home and confessed: "Help me, take me to the police station. I think I've killed somebody."
He later added: "I've got anger management issues and I black out. I turned him over and I watched him taking his last breath. I'm sad, but a part of me is proud of myself for doing it."
Prosecutor Bernard Ablett said: "The cause of death was stab wounds to the chest. Mr O'Farrell was stabbed three times."
Defence QC Ian Duguid said: "This is a rather sad and sorry case. In an emotional over-reaction to what he had learned that there were two alleged incidents, sexual assaults on two 14-year-old girls, in a house.
"This was the catalyst which brought about the death of this man. Mr Love became very angry.
"This is a 20-year-old first offender who has no record of acting in a violent fashion. He initially said he was proud of what he did. That is not a sentiment he continues to hold."
Lord Matthews told Love: "There is only one sentence I can impose and that is a life sentence. But I must set a period of custody that you must serve before you are eligible for parole."
Det Insp Stewart Andrew, of Police Scotland, said: "This was an unfortunate set of circumstances and two men's lives have been ruined as a result.
"The local community were very supportive of our investigation and I want to thank people for their cooperation as we conducted inquiries in the area at the time."