Ross Fountain in Edinburgh to be completed by summer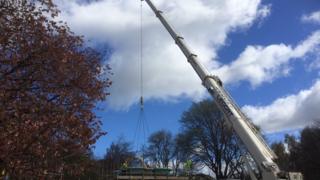 The Ross Fountain in Edinburgh will be completely refurbished and returned to its location in West Princes Street Garden by early summer.
Its current renovation has been commissioned by the Ross Development Trust, supported by Edinburgh World Heritage.
Work started in July 2017 and is being undertaken by Wigan-based specialists, Lost Art, at a cost of £1.9m.
A crane has been lifting the bowls and muses into place.
The project to restore the fountain is being spearheaded by the Apex Hotels founder Norman Springford.
It was produced at the iron foundry of Antoine Durenne in Sommevoire, France and was an exhibit at the Great Exhibition of 1862.
The fountain was bought by gunmaker Daniel Ross in 1862 for £2,000 and gifted to Edinburgh.
It was transported to Leith in 1869 in 122 pieces and installed in Princes Street Gardens in 1872.