Open-air cinema for Edinburgh film festival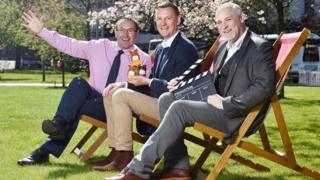 Recent blockbuster movies such as Paddington 2, The Greatest Showman and Wonder Woman are to be shown at a free open-air cinema in Edinburgh.
The weekend event will be part of the Edinburgh International Film Festival.
Taking place in St Andrew Square Garden, the cinema will be in place from Friday 15 June to Sunday 17 June.
Classics such as Top Gun, Big Trouble in Little China, Casablanca, Ghostbusters and Big will also be featured.
Mark Adams, EIFF artistic director said: "Our annual selection of free screenings are always the perfect way to get in the movie mood in the weekend before the film festival begins. From Casablanca to The Greatest Showman, this is a selection of great films that will appeal to film fans young and old."
The 72nd EIFF runs from 20 June - 1 July.