Tim Peake and spacecraft land in Edinburgh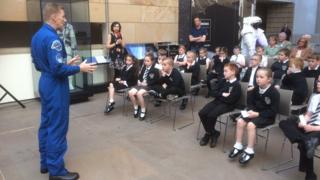 British astronaut Tim Peake has arrived in Edinburgh to unveil the space capsule that brought him down to Earth.
His appearance at the National Museum of Scotland is part of a national tour of the Soyuz TMA-19M descent module, which still bears the scorch marks caused by its fiery re-entry.
Tim Peake spent six months orbiting the Earth on board the International Space Station (ISS).
During his mission, he broadcast live experiments and walked in space.
He also became the first man to run a marathon in orbit using the ISS treadmill.
As part of the tour, Tim Peake is also meeting a group of pupils from Dunipace Primary School near Falkirk, answering questions about his time in orbit.
The former Army helicopter pilot began his training to become a European Space Agency astronaut in 2011.
He was launched from Baikonur cosmodrome in Kazakhstan in December 2015. Once aboard the ISS he received a message of congratulations from the Queen and ate his first meal - a bacon sandwich and a cup of tea.
He returned to Earth in June 2016 using the descent stage of the Soyuz spacecraft which had carried him to the ISS. It will remain at the museum until 4 August.
On display alongside it is his Sokol KV-2 emergency spacesuit. It has been acquired for the nation by the Science Museum Group (SMG).
Visitors will also be able to don virtual reality headsets to view a 360 degree, 3D experience called Space Descent VR with Tim Peake. It is being presented by the SMG and tour sponsors Samsung.