Radio host murder accused's 'jacket missing'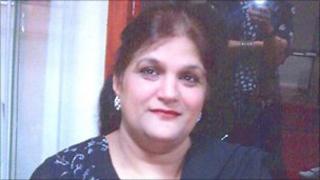 Items belonging to a man accused of murdering an Asian radio presenter could not be found during a police search of his home, a court has heard.
Det Con Scott Bruce told the High Court in Glasgow a jacket and rucksack Khalid Sarwar was seen with hours before Nasim Jamil died could not be found.
Mr Sarwar, 29, is accused of murdering Mrs Jamil at her flat in Glasgow.
He denies killing the 54-year-old Awaz FM agony aunt by repeatedly striking her on the head and body.
Dc Bruce told the court that he and several colleagues were briefed before the search and told to look for the jacket and rucksack.
Mr Sarwar was seen with the items on CCTV footage taken at Jury's Inn in Jamaica Street, Glasgow, at about 1300 GMT on 9 December last year.
Other charges
The court was told that the search of Mr Sarwar's house took between four and five hours to complete but the jacket and rucksack were not found.
The jury heard that in a wardrobe in Mr Sarwar's bedroom a locked safe was discovered. When opened it was found to contain two mobile phones and a gold-coloured bracelet.
Mr Sarwar is accused of murdering Mrs Jamil by repeatedly striking her on the head and body with a hammer and screwdriver or similar instruments and hitting her on the head with a bottle and a piece of glass.
He is also charged with stealing three knives, a quantity of clothing, a light bulb, two phones, keys, gloves, a watch, a bracelet, a necklace, a pair of earrings, a handbag and a sum of money.
Mr Sarwar is also accused of attempting to pervert the course of justice on 11 December last year, by giving false information to police officers.
He denies all charges.
The trial before Lord Brodie continues.