Tommy Sheridan breaks down during perjury trial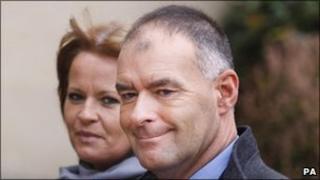 The Tommy Sheridan perjury trial was adjourned for a short time on Tuesday after the former MSP broke down while questioning a witness.
Mr Sheridan became emotional while referring to his wife Gail during exchanges with Bob Bird, the Scottish editor of the News of the World.
Mr Bird, 54, was giving evidence for a third day at the High Court in Glasgow.
Mr and Mrs Sheridan, both 46, deny lying at his successful defamation action against the newspaper in 2006.
Mr Sheridan, the former leader of the Scottish Socialist Party (SSP), won £200,000 in damages after News of the World printed allegations about his private life, claiming he was an adulterer who had visited a swingers club.
Following a police investigation, the former MSP and his wife were charged with perjury.
The trial previously heard how the best man at Mr Sheridan's wedding, George McNeilage, secretly recorded a tape in 2004 which is alleged to show the politician discuss "confessing" to the allegations before an emergency meeting of the SSP.
Mr Bird told the trial how Mr McNeilage approached the News of the World following the former MSP's successful defamation action.
Under questioning from Mr Sheridan, who is representing himself in the trial, Mr Bird said Mr McNeilage was paid £1,000 to take his family on a short holiday on the weekend that the story was due to run.
But when the story did not appear in the newspaper, Mr Bird said he thought Mr McNeilage "might" have been given a further £1,000 to leave Glasgow on the weekend it was actually published.
Mr Bird said: "He was very worried about you and retribution that people who knew you might take on him.
"He wanted to go away. We gave him £1,000.
"The weekend that we ran the story he might have got another £1,000 to do the same thing for his family so they were safe."
The court heard how Mr McNeilage had originally asked for £250,000 from the News of the World for the tape, but the newspaper eventually negotiated a £200,000 fee.
'Good faith'
Mr Bird said: "We thought that was a bit expensive, which kind of blows a hole in your theory that we would spend anything to set you up."
The trial again heard about a News of the World story from November 2004 alleging that Mr Sheridan had a four year affair with "former escort girl" Fiona McGuire.
Mr Sheridan said there was "not a shred of evidence" in the claim but Mr Bird said they were printed "in good faith because we believed it to be substantially true".
Mr Sheridan then accused the editor of "not giving a damn" how much "pain and damage" was caused.
He said there was no evidence of phone calls, text messages or a specific date given when sex had allegedly occurred.
Mr Bird replied: "No, but we did not have any photos of you at Cupid's (sex club) but you were there."
Mr Sheridan continued quizzing Mr Bird, but then appeared to become emotional as he referred to his wife.
He asked: "What we do know Mr Bird, we know that I was married (at the time) to a stunning woman I had known since the age of 13, don't we?"
At this point, with Mr Sheridan's voice breaking and Mrs Sheridan in tears in the dock, the judge Lord Bracadale, interrupted the cross-examination and insisted on a break.
Mr Sheridan later told Mr Bird that his paper knew his wife was pregnant at the time of the story with the couple's first child.
He claimed the News of the World decided to "print this utter tripe" regardless.
The ex-MSP went on: "You had no sense of responsibility to the health and well being of my wife."
'Causing pain'
Mr Bird replied: "You were the one causing pain putting her through all sorts of things behind her back."
The editor said it was not the paper's "fault" that Sheridan had allegedly been "unfaithful".
Mr Bird also suggested it was "nonsense" that his paper had put at risk the life of Mr Sheridan's unborn child or that of Miss McGuire, who later tried to commit suicide.
Mr Sheridan later quizzed the witness about private investigator Glenn Mulcaire, once jailed with the tabloid's royal editor for phone hacking.
The former MSP asked Mr Bird: "Did you or any other member of your staff order Mr Mulcaire to intercept my phone messages?"
The editor replied: "I certainly did not and, to the best of my knowledge, none of my staff did."
Mr Sheridan suggested that Mulcaire and a senior police officer would give evidence that "instructions" were given by Scottish News of the World staff.
He also alleged that when the Metropolitan Police raided Mulcaire, officers found details of the ex-MSP's phone.
Mr Bird claimed he was not aware of that.
The jury was shown Mulcaire's notebook which had some of Mr Sheridan's personal details, including his name and address.
Mr Sheridan asked: "Did you find it surprising that he had my number, address, post code in his phone book?"
Mr Bird: "I did."
The ex-MSP claimed Mr Bird "knew" who ordered surveillance on him.
Coulson allegation
The editor replied: "If it was, it was done without my knowledge. I did not see any evidence of surveillance."
Mr Sheridan then suggested Mr Bird and Andy Coulson amongst others at the News of the World "broke the law" with regards illegal surveillance and listening to phone messages.
Mr Bird: "I do not believe that's true."
It is alleged that Mr Sheridan made false statements as a witness in his defamation action against the News of the World on 21 July 2006.
He also denies another charge of attempting to persuade a witness to commit perjury shortly before the 23-day legal action got under way.
Mrs Sheridan denies making false statements on 31 July 2006, after being sworn in as a witness in the civil jury trial at the Court of Session in Edinburgh.
The trial, before Lord Bracadale, continues.