Police stand down from Loch Lomond blast site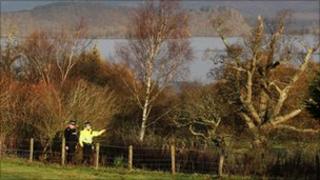 Police and counter-terrorism officials are to leave the site of a mysterious explosion near Loch Lomond.
Strathclyde Police said the woodland in Garadhban Forest, near Gartocharn, had been thoroughly searched and that they were standing down.
The site was previously cordoned off but will now be open to the public.
The decision comes after specialist officers removed items from the site, which have been sent for forensic examination.
Police have refused to reveal the nature of the items.
However, the force said it was "confident" the discovery of the items would lead to "positive lines of inquiry".
Officers, including bomb disposal teams and forensic scientists, have been working at the site since Wednesday, following an explosion at about midday.
'Major investigation'
Det Ch Supt John Mitchell said the investigation had prompted a "positive response" from the public.
He said: "We realise that until we can say for certain what we are dealing with, there will be a natural tendency for people to speculate.
"Speculating only causes unnecessary alarm. The important thing to remember is that the site is secure, poses no danger to the public and that a major investigation is under way to identify whoever is responsible for this criminal act.
"The investigation, as you are aware, includes assistance from experts from across the UK, who are involved in examining the materials that have been found."
Det Ch Supt Mitchell stressed that the force had not declared the explosion to be "a terrorist incident".
He added: "We will not be forced into making any such pronouncement until we have investigated all possibilities.
"We have a dedicated team determined to bring this matter to a conclusion at the earliest opportunity."
The investigation so far has centred around a wooded area about 300 to 400 yards from Ross Priory, a 19th century function venue owned by Strathclyde University.