'Milking can't stop because of the weather'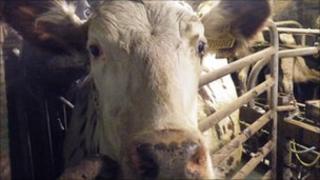 Dairy producers across Scotland are warning milk will have to go down the drain if heavy snow means tankers cannot get to farms.
Bob Carruth, who farms in West Renfrewshire, said collections had been almost normal so far, despite the severe weather.
However, he had to discard all the farm's milk on two occasions during the cold snap at the start of this year.
The NFU said farms were still recovering from loss of stock and damage to buildings earlier this year.
The milking machine at High Auchensale, between Kilbarchan and Bridge of Weir, gets switched on at 0445 GMT every morning.
Mr Carruth said you could not tell the cows to stop milk production because the weather was bad.
"The cows have to get milked twice a day", he told BBC Radio's Good Morning Scotland programme.
"The whole job of milking can't stop because of the weather."
But, at the moment, he said "it's a lottery what you'll find in the morning".
"It can be a job to defrost tractors, or defrosting pipes to keep the water running," he said.
In addition to potentially affecting the tankers taking milk off the farm, the heavy snow also threatens to disrupt the delivery of vital supplies.
Mr Carruth said he currently had enough feed for his animals.
But he added: "We're due a lorry-load of feed at the weekend, and I don't think the artic is going to get up the track. So we'll need to think about how we deal with that."