Argyll and Northern Ireland ferry service planned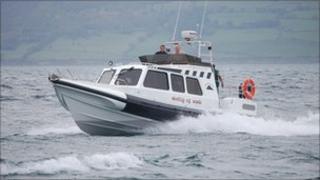 A plan has emerged to run a ferry service from Campbeltown on the Kintyre peninsula to Ballycastle in Northern Ireland next summer.
Years of effort by campaigners and the offer of a government subsidy have so far failed to re-start the service, which ended in 1999.
But business Kintyre Express plans to run a commercial service four days a week from May until September.
It intends to run two return journeys each day on the 90-minute crossing.
A car ferry service ran from Campbeltown to Ballycastle each summer between 1997 and 1999.
The Conservative government of John Major worked hard to establish the ferry service but it did not receive a public subsidy. The hope was it would aid economic regeneration on both sides of the North Channel.
But the operators - Sea Containers - pulled out after two years. Extensive efforts by the former Scottish Executive, the current Scottish government and the Northern Ireland Executive did not manage to resurrect the service.
According to the Kintyre Express website, the new service will run on Fridays, Saturdays, Sundays and Mondays from 27 May to 26 September.
It recently became clear that it would be difficult to subsidise the route because of the current pressure on public spending.
However campaigners will be hopeful the Kintyre Express service proves commercially viable.
The Scottish government said the idea of a publicly-subsidised ferry service had been the subject of intermittent discussion ever since the last scheduled service ceased operations in 1999.