Herald and Times staff suspend strike over redundancies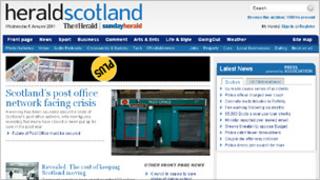 A planned 48-hour strike at The Herald and Evening Times newspapers due to start on Thursday has been suspended.
The National Union of Journalists (NUJ) is in dispute with the owner of the Glasgow-based titles, Newsquest, over compulsory redundancies.
Union members decided to suspend the strike at a meeting on Wednesday but will continue with a work to rule.
The Herald & Times Group welcomed the decision and said talks would continue next week.
Action could have hit production of the new-look Sunday Herald which is being relaunched as a news magazine.
About a dozen editorial staff at the papers are being made redundant - six of them compulsorily.
At the time, Newsquest said the decisions it had taken were the result of current and forecast trading.
Relaunch fears
Paul Holleran, Scottish organiser of the NUJ, said the union had been told there was a threat to the future of the Sunday Herald and that journalists did not wish to damage its relaunch.
But he said the work to rule would continue. Many staff, he said, had been working very long hours to bring out the papers.
The Sunday title is being transformed into a 92-page news magazine - a first for a major UK paper.
A spokesman for the Herald & Times Group said: "The editorial team is now focused on the launch of a new Sunday Herald this weekend which captures the radical and innovative spirit which has been the title's hallmark since its launch in 1999."
The Sunday Herald currently sells about 42,000 copies a week.
Some reports have claimed that Newsquest wanted the paper closed on economic grounds and the new format is an attempt to make it viable. The company has not commented on these claims.