Murder charge dropped over Glasgow street death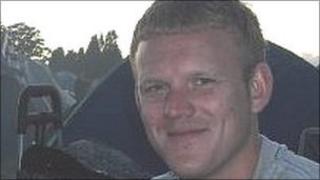 A murder charge has been withdrawn against a man accused of killing a TV installer who had been on a work trip to Scotland.
Matthew Rees, 28, was alleged to have murdered 27-year-old Craig Perks, from Stockport, Greater Manchester, in central Glasgow on 16 January 2010.
The charge was dropped at the High Court in Glasgow after prosecutors said there was not enough evidence.
An assault charge against co-accused Mark Lennox, 29, was also dropped.
Both men had pleaded not guilty to the charges against them.
'Tragic loss'
On day three of the trial, prosecutor Gary Allan QC told the jury that he was withdrawing the case against Mr Rees.
It is believed the decision was made after discussions with Lord Advocate Elish Angiolini QC.
Mr Allan said a case which involved the "tragic loss of the life" was a "matter of deepest concern and sadness".
He added: "I have concluded that the evidence in this case, as it has emerged and, as I anticipate it would progress, is such that it is no longer in the public interest that this prosecution be maintained against Matthew Rees."
Mr Allan also made a similar motion against Mr Lennox.
The court had previously heard how Mr Perks had travelled from his home in Stockport to carry out work at Celtic Park.
He was joined by business partner Chris Appleyard and apprentice Nicholas Goodwin.
The trio had gone to a bar in the Merchant City on 16 January to watch football.
Mr Goodwin left to go back to their hotel. Mr Appleyard later went to the toilet and could not find Mr Perks when he returned.
Mr Appleyard tried to phone him, but eventually decided to go to the hotel.
The 39 year-old told the trial he was awoken the next morning to be told by staff and the police that Mr Perks had died.
Street altercation
Mr Appleyard and Mr Goodwin later had to identify Mr Perks's body.
Teacher Maureen McNeil told how she was returning from a night-out on 16 January when she spotted an altercation between three men in the city's King Street.
The 44-year-old said she eventually saw one sitting on top of another, believed to be Mr Perks, in the middle of the road.
Mrs McNeil added: "He was lying there motionless and there was blood coming out of the back of his head.
"The man was just sitting across his chest. The man on the ground was white, there was not much colour about him."
She claimed the man on top only got up when sirens sounded and he walked towards a nearby shopping precinct.
The charge against Mr Rees, of Toryglen, Glasgow, included claims that he repeatedly punched and kicked Mr Perks causing him to fall to the ground.
The assault was said to have continued during which it is alleged Mr Perks was struck with a gas canister.
It was alleged Mr Rees prevented "concerned persons" from rendering medical assistance to the man.