Glasgow's museums body 'mislays part of tram'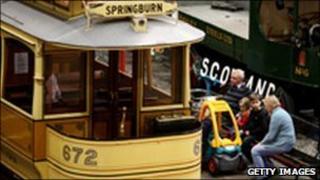 The body which runs Glasgow's museums and art galleries has mislaid a number of exhibits which were donated to the city's transport collection.
Glasgow Life said it was trying to trace part of a tram which had been donated by an enthusiast in 1975.
Other items which staff are attempting to find include tickets, time boards and film footage.
Last week, Glasgow Life admitted more than 80 paintings had been mislaid or lost from its collection.
The latest items to be mislaid were donated to Glasgow's museums collection by tram enthusiast, Dr Ian Macdougall.
A spokesman for Glasgow Life said: "Storage and inventory arrangements in the past were far from satisfactory, with Glasgow's 1.4 million objects held in the collection spread across 147 storage spaces in 14 buildings.
'Secure facilities'
"After the audit in 1996, the city prioritised the security, inventory and storage of the collections by investing in world-class museums stores.
"Today, we have just three secure storage facilities, including the £20m Glasgow Museums Resource Centre in Nitshill which is home to one million objects.
"Such is the poor quality of the documentation from the 1970s, that we will ask Dr Macdougall to assist us in identifying items which could be part of his original donation."