Former police officer in court over 'sectarian songs'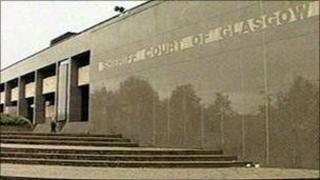 A former police officer and Rangers supporter has gone on trial accused of singing sectarian songs at Ibrox.
Jamie Hetherington was a probationary officer with Strathclyde Police when he was detained during the Rangers versus Aberdeen game in April last year.
The 23-year-old, who has since resigned from the force, denied committing a sectarian breach of the peace during an appearance at Glasgow Sheriff Court.
The case will continue in October due to witness difficulties.
The court heard from security steward Sarah Horton, who claimed that she saw Mr Hetherington singing sectarian songs and pointing at Aberdeen fans during the match.
Ms Horton said: "I heard the fans singing sectarian songs and I turned round and saw him.
"He was just belting it out with no discretion. Other people were trying to hide it so we couldn't really pick them out but he was just belting it out."
Ms Horton said Mr Hetherington was ushered downstairs to the concourse area where the police took over.
The accused also gave evidence, during which he denied shouting the alleged remarks.
He told the court: "I'm fully aware of the repercussions of shouting something like that and, bearing in mind my occupation at the time, I swear on my mother's life I never did it."
Mr Hetherington said that he believed it was a case of mistaken identity.
He told the court that he was a probationary officer at the time of the alleged offence with just 18 months service.
The former police officer added: "Owing to the allegations against me, I was asked to resign from my post."