Arrest in Glasgow over Stockholm bombing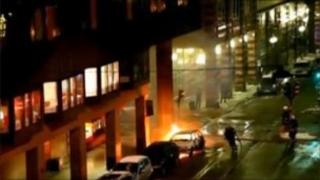 A 30-year-old man has been arrested in Glasgow in connection with a suicide bombing in Sweden.
Police detained the foreign national under the Terrorism Act during an intelligence-led raid in the city's Whiteinch area at about 0605 GMT.
Two people were hurt in two blasts in Stockholm in December. A man was later found dead with an explosive device.
The Stockholm bomber was named as 28-year-old Iraqi-born Taimour Abdulwahab al-Abdaly, who lived in Luton.
The attack was believed to be the first suicide bombing in Sweden's history.
'Well planned'
Detectives in Britain and Sweden have been investigating whether Abdulwahab was supported by others or acted as a lone attacker.
Officials said at the time the bombing appeared "well-planned" and worked on the assumption that he was helped by others.
The man detained in Glasgow is suspected of "aiding terrorist activities outwith Scotland".
The Swedish Security Service said the arrest was made following collaboration between Scotland and Sweden.
A statement said there was "good co-operation between prosecutors and the police authorities".
It read: "Strathclyde Police, Scotland, has today arrested a person suspected of offences under the Terrorism Act.
"Scottish investigations show that there could be a connection between the person now arrested and the terrorist attack in central Stockholm on 11 December 2010, something the continuing investigation in Scotland will clarify.
"Strathclyde Police is in charge of the investigation and the arresting.
"The arrest made in Scotland is the result of the Scottish police investigation, the collaboration between Scotland and Sweden within the scope of international judicial assistance, and a good co-operation between prosecutors and police authorities."
Strathclyde Police said the man being detained posed "no direct threat to Scotland".
The incident is not being linked to events at Gartocharn, near Loch Lomond, last November where a number of suspicious devices were found.