Loch Lomond National Park sorry for 'Giro Bay' map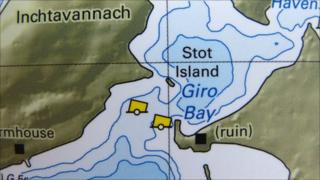 Bosses at a national park have had to destroy 3,000 copies of a new map which featured controversial names including a place called "Giro Bay".
A spokeswoman for Loch Lomond National Park said it was sorry for the "error of judgement".
The map, which had been produced to replace one drawn up in 1861, also named areas after park employees.
The park said a navigational chart without the controversial names would be available within weeks.
It added that the additional costs would be funded from sales of the new edition.
The park revealed it had been "overwhelmed" by public interest in the new chart which was produced following a full survey of the popular visitor attraction.
Local people said the map was "a disgrace" and could have caused confusion and delay in the event of an accident.
Ernie East, who has fished and kept a boat on Loch Lomond for 40 years, told BBC Radio Scotland that local people were "very annoyed" about the situation.
Mr East said calling the bay, on Inchmoan, "Giro Bay" was "derogatory".
He also said that the park authority was being a "megalomaniac" for naming areas after people.
And he said the chart could have caused confusion and delay if there has been an accident on the loch.
Mr East said rocks near Aber Isle, towards the southern end of the loch, have always been known as Aber Rocks. But the new chart christened them Chimmo Rocks.
He believed that "nobody local will really know where they are".
Looking through the chart he also highlighted an area which it names as Cameron's Shallows.
He said: "Nobody's ever heard of [them].
"And it's not all that shallow there, to be quite honest."
"The shallow part is about 100 yards further south. We also have a place called Jessie's Shallow just north of Inchfad which is over 45ft or 50ft deep.
"And the further up you go, you get to Archibald's Abyss. Now this is the deepest part of Loch Lomond. It's 640ft deep. That's been named after one of the rangers.
"Why it's been allowed to happen, I don't know."
Map-making tradition
The national park said: "We regret that we made an error in judgement in the initial print run of the new navigational chart for Loch Lomond."
A spokeswoman added that "a colloquialism" was included in the chart.
She also confirmed that some previously unnamed parts of the loch had been named after cartographers and rangers who had worked together on the mapping project.
The spokeswoman explained names given after people was a common map-making tradition but "we appreciate it is felt to be inappropriate in this instance".
She added: "We are grateful to local people for drawing this to our attention. As soon as we realised our mistake, immediate action was taken and we withdrew the chart."