Stockholm terror suspect detention extended in Glasgow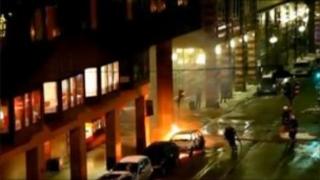 Police in Glasgow have been given more time to question a man arrested in connection with a suicide bombing in Stockholm just before Christmas.
The 30-year-old foreign national was detained at a block of flats in the city's Whiteinch area on Tuesday.
It is alleged that he was involved in aiding terrorists in Sweden.
Strathclyde Police said a sheriff had granted an extension to the time the man can be held. He was taken to a high-security police station in Govan.
The suicide bomber, Taimour Abdulwahab al-Abdaly, 28, blew himself up and injured two people in an attack in Stockholm's shopping district on 11 December.
Iraqi-born student Abdulwahab, who lived in Luton, apparently killed himself as he tried to set off a car bomb in a busy street.
Married man
After the vehicle caught fire he fled, blowing himself up a short distance away.
The bomber travelled to Britain in 2001 and attended university before graduating and marrying in 2004.
He settled in Luton with his wife Mona, with whom he had three young children, two girls and a boy.
He went missing from the family home two-and-a-half weeks before the bombing.
A white Audi packed with gas canisters, which was severely damaged in the attack, was found to be registered to Abdulwahab.
Experts said at the time that the bomber probably did not succeed in detonating all the explosives and could have caused much greater damage.
'Intelligence-led investigation'
The attack was similar to the two attempted car bombings which involved gas canisters in London's West End in 2007.
Strathclyde Police started searching three properties in Glasgow on Tuesday.
Earlier this week Chief Superintendent Ruaraidh Nicolson said the arrest was part of an ongoing investigation which was "intelligence-led".
The Metropolitan Police and Bedfordshire Police are also involved in the probe.
The Swedish Security Service said the arrest was made after collaboration between Scotland and Sweden.
In a statement they said there "could be" a connection between the arrested man and the attack in central Stockholm.
A spokeswoman for the Swedish Security Service would not comment on reports that their operatives had travelled to Scotland to help question the arrested man.